30 Oct 2019
Visit Hylec at Lux Live 2019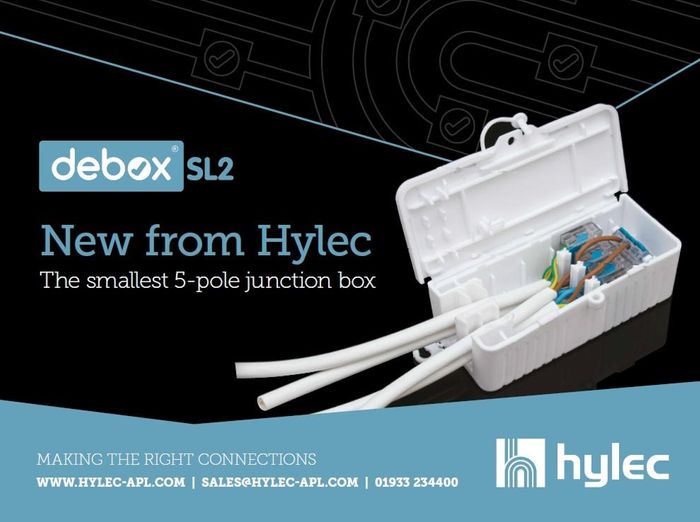 Show debut for new Debox SL2 in line junction box from Hylec at LuxLive; plus latest weatherproof connector range ensures lights stay on underwater
October 30, 2019 - Wellingborough, UK: Hylec-APL, the specialist supplier of electrical components and enclosures, is showcasing its latest products at LuxLive on Stand D3, including giving a tradeshow debut to the new Debox SL2 junction box. On the stand also will be the highly successful and popular TeeTube weatherproof connector range, plus IP66/67-rated Isolator switches, and a wide range of PCB terminal blocks and fuse holders
Announced in mid-July, Debox SL2 is the smallest junction box with five poles on the market and the only product supplied complete with 5 screw free terminals: each individual 32A lever connector can take up to three conductors. It is completely tool-free and supplied complete with five approved lever connectors. A patented design, Debox SL2 makes installation easier for smaller and larger internal wiring jobs, as everything needed is supplied with the box and there is no need to use a screwdriver to securely join wires. On lighting installations, including large-scale new home developments, the Debox SL2 five pole in line junction box and the 4-pole Debox SL save professional electrical contractors much valuable time, particularly when installing multiple downlights. Safety is always paramount for electrical components and the Debox range, including the new Debox SL2, is flame retardant to UL940V 0 and conforms to the EN60598-1 (13.2.2) Glow Wire Test. Debox SL2 measures a compact 116mm x 45mm x 33mm and is manufactured from white polypropylene. With a temperature rating of -20degC to +85degC, it is also maintenance free and compliant.
The very popular range of TeeTube weatherproof connectors for exterior use is also being shown on the Hylec stand. Assuring electrical connection in harsh environmental conditions, the range includes IP68/IP69K models that can be permanently submerged under water and withstand high pressure water jets as well as dirt and dust. TeeTubes have been installed in major projects including illuminating major river bridges, illuminating billboards at sporting events and public water features. They suit a wide range of applications, including architectural lighting, street lighting, underwater lighting, illumination of road signs and billboards and the connection of interior and exterior Class 2 electrical devices.
.
About Hylec-APL
Hylec-APL is a market leader in the manufacture and supply of electrical and electro-mechanical components to major OEMs and CEMs, wholesalers, and specialist & catalogue distributors. Hylec-APL's innovative, extensive and patented product portfolio includes Debox in-line junction boxes, isolator switches, enclosures (stainless steel, steel & ABS), water and weatherproof connectors, cable glands, terminal blocks, fuse holders and many others marketed under the brand names Debox and Hylec. A British company established for over 30 years, Hylec-APL is focussed on developing strong, long-term business partnerships with its customers, distributors, wholesalers and partners through its all-pervasive service culture, an active and knowledgeable field sales force, and a large inventory of available parts.
For more information:
Hylec-APL
Steve Robbins, Sales Director
+44 1933 234400
steve@hylec-apl.com
www.hylec-apl.com
Agency: BWW Communications
Anna Johnston, Senior Account Director
+44-1491-636392
+44-7493-866478
Anna.johnston@bwwcomms.com
www.bwwcomms.com